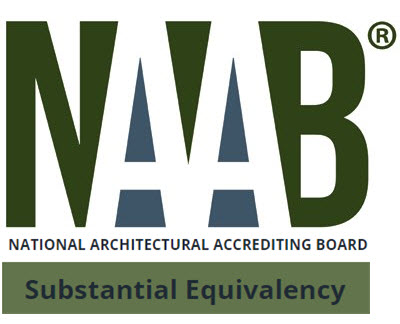 The Architectural program in the college of Architecture and Planning, at King Saud University was given the Substantial Equivalency, SE by the National Architectural Accrediting Board, NAAB, in the United States, for six Years starting from January, 2013. The program is now preparing to welcome the next NAAB visit to renew the SE in the spring, 2019.
Given the NAAB Substantial Equivalency in January 2013, the Architecture program at King Saud University was the first in the Kingdom and the second program, after Kuwait University, to achieve the NAAB Substantial Equivalency in the Arabian Gulf Region.
To obtain the SE, NAAB conducted three successful visits to the architecture program, the first was operated by Mr. kin DouBeus, in December, 2010, and the second was operated in December, 2011 by Mr. Moris Brown and Prof. Fatih Rifki. A team headed by Mr. William Davis, in December 2012, operated the third visit. Before the first visit, the Architecture Program submitted an institutional overview and before each of the second and third visits, an Architectural Program Report was submitted to NAAB administration. Based on the Visiting Teams Reports of the three visits, NAAB rewarded the Substantial Equivalency to the Architecture Program at King Saud University in January 2013 for six years.
Getting the NAAB Substantial Equivalency, the university leaders, the college administration and the program's faculty members and students are happy and proud with this successful achievement.
The term "substantial equivalency" identifies a program as comparable in educational outcomes in all significant aspects, and indicates that it provides an educational experience meeting acceptable standards, even though such program may differ in format or method of delivery. The designation is valid for six years beginning 1 January of the year in which the final visit (Visit 3) took place. In order to maintain the designation, the program must be visited again in the sixth year of the designation.
King Saud University, College of Architecture and Planning, Department of Architecture and Building Sciences has received the substantial equivalency designation from the National Architectural Accrediting Board for the following professional degree program or sequence:
Bachelor of Architecture, January 2013, substantial equivalency designation was awarded.
Attached Files
2013 NAAB PROCEDURES FOR SUBSTANTIAL EQUIVALENCY
PSER Program Self - Evaluation Report
Final decision letter from NAAB, January 2013.